intan nur hadilah
From my random observation, i spent most of my money on food. yes FOOD!
And the weird thing is, im not sure if its a good or bad thing? -_-
I found my short happiness on food, I guess.
Whenever i feel 'unhappy', the second thing i will hunt is fooooooooooood.
Baskin Robbin ke, cake Secret Recipe ke or simple Crunchie or Cornetto will do.
Its been few weekends where i spent my time baking.
And please, ini bukan termasuk dalam fasa
'Amboii, dah boleh kahwin dah niiii.'
Saja suka-suka and mungkin juga sebab seronok kot.
Tapi yang pelik nya lagi, i find it fun to bake, but i dont really find it fun to eat it.
And bukan sedap tak sedap okayyyy. Excuse me. Tapi aku lebih seronok if orang lain makan, kot lah :D
So i started my first experiment with rainbow cupcakes.
DO YOU HOW EASY IT IS TO DO THIS?!
And of course lah, i Google everything about it. Whats life without Google.
So this is one of my favorite recipe for it.
the colours. purple tak jadi! :s
Ohh harap maaf, picture end product tiada sebab sebenarnya kannnn..... hurmm, it turned out to be quite disastrous. HAHA. Nak tunjuk bakal mak mertua pun malu i :(
Post-mortem : That was because i used a wrong cake mix and perhaps the baking arrangement was wrong.
Moving on.
So i did my second experiment using from scratch cupcakes mix. And i found this simple white cupcakes recipe on Google. And this time, it was great. Yeay? :p


Tapi yang paling seronok bila buat dengan nana yang excited. So most of the time we played with the frosting. There were PINK butterfly, flowers, letters and whatever shapes a human can recognize.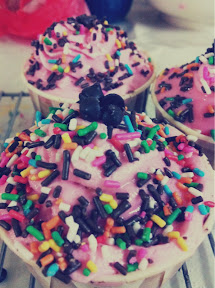 Get what i meant?
Last weekend was Mama's birthday. So again, Google found me a simple to try-out cupcakes recipe.
OREO CHEESECAKE CUPCAKES! Tahu tak senang gila je?! Sila baca dalam nada excited. Sila.
btw i used a cheaper version of cream cheese. Selalu nya Philadelphia yang paling common baker guna
saya noob-ies je.
And so, end product,
Ada orang cakap kan kan............ rasa dia mcm cake Secret Recipe. Alalalarh. over je tau you all :')
Haha, please lahhhh. Mama suka, so im happy regardless what ♥
Maybe lama lagi kot untuk aku try experiment lain sebab TAK STUDY KE WEH WEEKENDS.
Dah lama tak study yang skema punya kot, sejak masuk 4th semester,so called the 'honeymoon' sem ni.
Dah dapat seru rajin. Alhamdulillah. Tolong lah jangan pergi dibawa angin :(

Seronok tau baking. Awak, try lah :)

p.s: Kepada sesiapa yang curious, minta maaf saya tak terima tempahan.
pp.s: HAHA :p